Blog Tour Stop - The Cinderella Project by Stan Crowe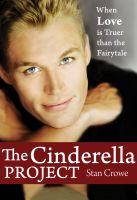 A clean romance from the guys point of view is refreshing after a summer taken over by 50 Shades et all! What is even more refreshing is that the story is written by a guy, making the POV of the main character authentic.
I had fun reading the story and I really enjoyed spending time with the characters. I highly recommend this book to all readers who like contemporary romance! I hope to read more by Stan in the future :)
Stan was kind enough to take some time to tell us the story behind the book!
How The Cinderella Project Came About

In 2008, on an obscure webboard floating in the great sea of the internet,
Stan found himself embroiled in a three-part writing contest. For the third, most strenuous round, our intrepid hero took a fantasy-fic romance he'd been writing and moved it into the 21st Century. The handsome prince morphed into a doctoral student. The princess, of course, remained his fiancee, and the castle they lived in became a university.

The heart and soul of the romance remained, however--that of the prince being true to his betrothed despite massive temptations. ****

I had the original story mostly plotted out before I ran across the story contest. Consequently, serious revamping was in order. That said, I had the first draft laid down in about three months which, for me, is insanely fast.

At the time I finished the original draft, I'd published an anthology, and another short story. The idea of publishing again was very appealing. I let too many things distract me from that goal, however, and it wasn't until 2010 that I visited a local publishing house to see about getting my story published. They told me that even if I were to have submitted a finished manuscript right then, it would be at least 18 months before a print copy ever released--I later realized that 18 months from manuscript to shelves is actually pretty quick, but at the time I thought, "Geez. That's a long way out." So I sat on it for a while.

Fast forward to February 2012. I'd met the head of my publisher's company, and she had agreed to take me on. That meant that I had to kick things into high gear to get the project done on time. First, I needed to take the 40,000 words I'd written and beef it up to no less than 60 k. I was fine with that, since the first draft felt incomplete and rushed anyway.

Once the submission draft was complete, my editor and I hammered on it to work out some kinks and polish up a few items. The results were a book that was even better than what I'd first written--I was pleased.

From there, it was just post-production stuff, and the rest is history.
To follow the tour check out
http://www.breezyreads.com/p/blog-tours.html
To get your hands on a copy of The Cinderella Project go to one of the following:
http://www.amazon.com/dp/B00930CIVC/
http://www.barnesandnoble.com/w/the-cinderella-project-stan-crowe/1112689836?ean=2940015150452
http://www.smashwords.com/books/view/179436