What If You Made It Up? By Kathleen S. Kolze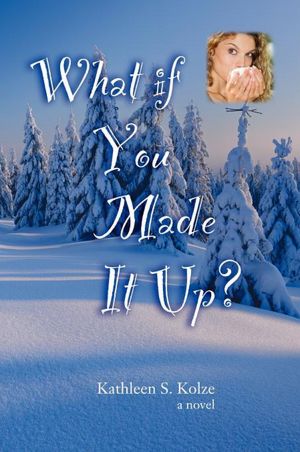 This is the debut novel by Kathleen Kolze and I have to say I look forward to further work from this author. The story is entertaining and the character development is impressive, not only with Eva the main character, but with her friends and clients as well. I like that the story has the message that you can do what you want to do even if at first it seems that it is too late. I felt inspired by the end! I think anyone who enjoys well written women's fiction will enjoy this new book. Besides it has a bit of everything; romance, mystery, friendships, and fun!
Kathleen was kind enough to take some time out of her very busy schedule to take part in the Mommy's Reading Too Author Interview. So here she is in her own words ......
Tell us about yourself.
I'm a wife to Bob, for over 24 years, and a mother to Kent (19) and Claire (17). I work full time - and have been fortunate that the last 10 years have been from a telework office - which includes intermittent global travel. I'm also a certified and credentialed coach. This came after a career change I made to talent development from information technology, where I had roles from analyst to Chief Information Officer -- my degree was in Computer Science and Mathematics. I work in a very culturally diverse company, which I love.
Travel keeps me motivated. I always try to have a trip in mind, or in the works. This started in my youth when I lived in Brussels, Belgium from the ages of 10-16. I've also lived across the American Mid-West and Northern California. I'm an avid walker, quilter / art quilter, and a devoted student of ballroom dance. My husband and I take classes together and have been dancing for 4 years - we do everything from American Smooth - waltz/foxtrot/tango/quick step - to Latin dances and Swing. He's even posted us dancing on YouTube which makes me crazy! I love good food, I suppose we all do, and when I can, I like to cook new dishes and continue to work on Italian fare with olive oil and garlic!
Tell us about your writing experience.
Twenty years ago I took a "Writing Fiction" course at a local community college and still have the encouraging notes from the instructor! The particular story I was working on at that time has not come to full fruition, but I may have to dust it off! Throughout my corporate career I have been writing articles on my work-based topics for newsletters, communication to internal clients, technical manuals, and more recently articles for internal social media sites and blogs. This is something I do on a weekly basis.
I starting writing about Eva when my company was sold to another firm back in 2007...just in case things didn't work out for me! I ended up gainfully employed, but kept on writing. What I love about this medium with my busy life is that you can add to it any time. It keeps getting bigger. I can write when I have the time and the inspiration -- and before I know it, there is a chapter, and another -- and then a complete story!
What lead to you coming up with this book?
The first idea I had for a book was to share how I changed careers, the ups and downs, the people, the training and transformation that I had to make it work. A change from technology to talent management and coaching is a big swing. The book bored me (and if I was bored...no one else would want to read it!) and I knew the message has been delivered by other authors. One of my goals was to share the impact of life coaching. I realized this didn't have to be a personal memoir, so that's when I created Eva, and Bear, Wyoming -- weaving coaching into the plot. Having the vignettes of coaching calls gave me a chance to show rather than tell what is life coaching. I love the outdoors and being in Wyoming, so that locale seemed a natural place for Eva to live. I got to dream of being there every time I wrote about it -- from my memories, research and imagination.
What If You Made It Up? unraveled over four years of early Saturday mornings until it became a full length adventure of Eva and the town of Bear. I mostly kept my writing private, wanting to make sure I finished the novel and didn't distract myself from my "real" job. I didn't share it with my husband until I had 100 pages written. Most of my friends and family didn't know I had written the novel until it was in the final stages of publishing - so I surprised a lot of people! Now, there were a few girlfriends and one of my sisters who were very intimately involved along the way
What led to your decision to self-publish?
After trying to find an agent, I was concerned that the months were clicking by and I didn't want the story to get stale. There were a few "asks" for more information, but the process was long and arduous, and most just politely rejected me. My working and traveling didn't help, so time was an issue for me. That is what led me to investigate the process of self publishing.
I went this direction because I loved the characters and the story (can I even say that? it's true... they even make me cry/laugh at certain parts). I needed to share Eva, Bear, her friends and coaching with readers out there! I couldn't give up.
I also knew the manuscript was in desperate need of a REAL editor before any publishing could happen.
That being the case --- I talked to my high school girlfriend who knows everyone. She knew someone from our high school class who was an editor. I emailed her -- and she emailed back within an hour. We only knew of each other in high school. She is now one of my favorite people, such a generous, kind, and smart soul.
"Yes" she said she'd love to edit a novel after all the heavy non-fiction she'd been editing! YEAH. I was so thrilled I couldn't sleep. I sent my manuscript - electronic of course - - and the rest is history. She's a master. It took us a year almost exactly for editing through design and printing.
An interesting note: As a result of my novel, she started her own self-publishing company. I was her first client.
What obstacles did you come across in the process?
Because of this point that my editor became my self-publisher, I didn't have as many obstacles as most people. She is amazing, and her company, Diligent Editorial, is one I would promote to any author who wants to self-publish. I completely trust her. She is absolutely diligent and really, really good.
The obstacles I have now are with trying to keep track of the different venues that carry my book. This includes Amazon, BN, for both paperback an ebook (Nook, Kindle, for iPad...). I have a website,
www.kathleenkolze.com
, that people can visit and it will take you to the links to purchase the book online.
The other obstacle I have is spreading the word. This is tough without an agent. So am trying to work through my list of ideas. Word of mouth and social media will be best - and I hope to get response in these areas. There are reviews on Amazon, which is exciting --- and the best part, some of those people are not people that I know! Of course I appreciate my friends honest reviews, but a review from people who only know me due to writing, is very rewarding.
Would you / are you planning to self-publish more books in the future?
I have two other novels in the works that I would like to self-publish if I can cover the costs of the edit, design and publishing process. Actually, three books. They are:
Tango in Tazewell County. This is about a seasoned city girl starting a ballroom dance studio in the Heartland... and all the drama, change and passion that comes with dancing, dance instructors, and putting eclectic people in one place!
A Wife: Conversations with Myself
This is a story woven around all those things that "this wife" thinks to herself but never says ... it opens up raw truths with the thoughts and actions of what appears to be an ordinary wife and mother. Who said anything about ordinary?
I would like to write a travelogue, To France With Claire, after spending eight days in France with her last month on Spring Break -- just the two of us. We had a dream vacation. She is a senior and off to college in August.We journaled during the trip and have an idea to co-write a book that shows our different perspectives of the trip.
If you go to my website -- the top picture on the home page is me holding my book (this part is cut off) in front of the historic Shakespeare and Co, an English bookstore in Paris. It was exciting... I left a copy of my book on the stacks! :-)
A big thanks to Kathleen for visting Mommy's Reading Too and another big thanks to Patti Bower at Diligent Editorial and Book Production Service, who first got me interested in reading What If You Made It Up? .
To get your own copy go to
http://kathleenkolze.com/novel-what-if-you-made-it-up.html