Leaving the Hall Light On by Madeline Sharples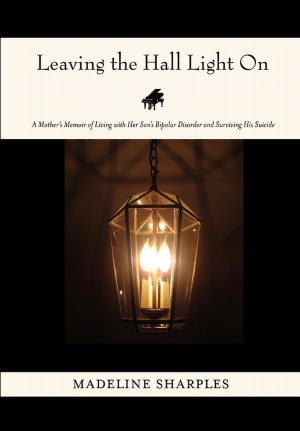 Leaving the Hall Light On is about living after loss. It's about finding peace and balance and various ways the author, Madeline Sharples, finds to bring herself together after feeling so helpless and out of control during her son Paul's 7-year struggle with bipolar disease and after his suicide in September 1999.
This book takes you on a journey no mother ever wants to take, but if you do, Madeline Sharples shows readers that you can come out the other end a survivor. The moving story is written very well and as it moves along I did not want to put it down, I wanted to know how she kept going. I like the way that she showed the good and the bad and was not out to sugar coat the details. The story is as it happened and from the heart. I think that this is a necessary read for anyone who has a family member dealing with a mental illness and to all other readers who enjoy reading about those who have overcome hurdles in their life and have come out the other side to share their stories.
http://www.luckypress.com/madelinesharples.html