Hollywood Stories by Stephen Schochet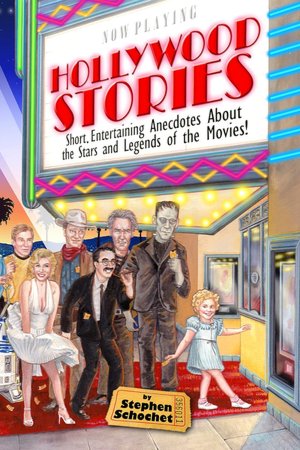 Just when you thought you've heard everything about Hollywood comes a totally original new book. Hollywood Stories: Short, Entertaining Anecdotes About the Stars and Legends of the Movies! Here you'll find a timeless treasure trove of colorful vignettes featuring an amazing all-star cast of icons including John Wayne, Charlie Chaplin, Walt Disney, Jack Nicholson, Marilyn Monroe and many others
This is a great book! It was fun to read and learn so many stories about Hollywood's golden age. The stories span from the time of silent films to the 1990's, although the majority are from the past! That is why I like it so much. Today we know what celebs are up to everyday because of Twitter and TMZ. But back in the day, the screen legends had secrets .... and now we get an insiders insight! Reading this book is for anyone who loves Hollywood! If you can't be there to take a tour, reading this book will give you all the stories and more that you would get if on a tour!

Stephen will now tell us about the experiences he had in coming up with this book and how he got all the dirt!!!
Tell us about yourself.
I'm a tour guide in Hollywood and years ago I started collecting little stories to tell the customers and had the idea that the tales could be told anywhere. I had always been interested in the movies and history so it was kind of a natural fit for me. When I first started I had a study buddy named Ivan. During our breaks we would research information about old Hollywood and share it with each other. I remember one time we met on Hollywood Boulevard and said to me in a low, conspiratorial tone," Steve, man, you what I found out today? That Thomas Edison owned the rights to the movie camera and the early moguls like Mayer, Warner, and Zukor they had to pay him tributes. They why they left the East Coast and came west -- they were outlaws, baby!" The more information we found out, the more fun it was to give the tour. And I've got a good memory for stories so having different material kept it fresh, I think for the customers as well. Anyway, eventually I had the idea that these very short anecdotes could be told anywhere and that's what led, after a few other projects, to the idea for the book.
Tell us about your writing experience.
I read over 500 books, talked to valets and housekeepers, watched interviews, read magazines,the internet, wherever I could get a good story from. I tried to keep things fresh for example I wanted to do a story about Marlene Dietrich who knew very little about: "Marlene Dietrich found her true calling entertaining the Allied troops in 1943. The forty-two-year-old actress, who never enjoyed making movies, got a crash course in how to talk to audiences. Nothing could be tougher or more fulfilling than performing in front of young men who might die in battle the next day. The Berlin-born American citizen overcame suspicions that she was actually an Axis spy, and was proud of spurning Hitler's request to return to Germany. After World War II ended, she enjoyed being a lusty cabaret singer for many years and tried never to take herself too seriously. Marlene, whose long list of romances ranged from John Wayne to General Patton,once mentioned to her husband that she should have married Hitler back in the thirties, and then there would have been no war. She laughed when he agreed and stated that the Fuhrer would have killed himself much sooner. "
The story about Marlene and Hitler came from a People Magazine article I found on the net; once I had the punch line it was a matter of going to other sources to find more bio information that lead up to it. Giving tours helped me get used to being very economical with getting out a lot of information with less words; it blended over into my writing style.
What lead to you coming up with the idea of this book?
Previously I had done two audio books called Tales of Hollywood and Fascinating Walt Disney. To publicize them I did A LOT of radio interviews. In order to keep getting on the air I had to keep coming up with new, topical material; for example I suggested to a host that before an election we do a show on Mr. Smith goes to Washington; any hook that what get me some publicity. Eventually I got involved with a one minute radio feature called Hollywood Stories: it was a really fun project but unfortunately we could not find a sponsor for it. But it really turned into a positive in a lot of ways; it helped get very economical with writing and the material became the basis for the book. Sample video of the Hollywood Stories Radio Minute: <iframe width="420" height="315" src="
http://www.youtube.com/embed/wlH16xJo9jw
" frameborder="0" allowfullscreen></iframe>
What led to your decision to self-publish?
I just feel with all the opportunities out there for marketing and publicity right now it is the best way to go especially with the current popularity of e-books.
What obstacles did you come across in the process?
You do lose your chance to get reviewed in trade publications like Publisher's Weekly or Library Journal unless you pay them. Hollywood Stories, is actually my third project, previously I had done two audio only projects called Tales of Hollywood and Fascinating Walt Disney. When I recording Tales of Hollywood, I just put a cover on it and tried to sell it, I had no idea what an ISBN was, no idea how to market it; I just was filled with enthusiasm for storytelling. Over time I was able to get both Tales of Hollywood and Fascinating Walt Disney into bookstores and they did well though I made some very costly mistakes mostly due to inexperience. Things like changing the price without changing the bar code, and not knowing that would not read right on the bookstore scanners when people purchased the CDs. It led to tons of product being returned to me and it was devastating. I consider Hollywood Stories to be a fresh marketing and with the advent of e-books the whole industry has changed and it is thrilling for content providers.
Would you / are you planning to self-publish more books in the future?
Yes but I cannot say when.
When I was writing Hollywood Stories I had to pick a stop date, Oct. 31, 2009 otherwise I never would have finished it! Recently I was listening to an interview with Adam West and he told a story I really enjoyed. On the old Batman TV show Bruce Wayne (Adam West) and Dick Grayson (Burt Ward) would slide down the bat poles about 15 feet and land on mattresses. Later they would be filmed coming down into the Batcave in their full costumes and the two shots were put together. One time West yelled," To the bat poles" and did his famous slide only to be startled when he landed on a sleeping wino.
To get you own copy go to
http://www.hollywoodstories.com/index.html