Guest Post: Karen Wyle on Self-publishing Twin-Bred
Today I have a guest post from author, Karen Wyle on her journey in self-publishing!
My Journey to Self-Publishing
My ambition to become a "published" novelist started early. At age ten, I hoped to be the youngest novelist ever published. I was well into my first novel when I learned to my chagrin that some British upstart, age nine, had beaten me to it. I completed that novel, and my mother -- with an unselfish patience that my children can only wish I had inherited -- typed every word of

200 handwritten, penciled pages. She put the manuscript in a report binder -- as close as she could come to being my publisher.
I started another novel at age fourteen and abandoned it after about forty pages. That was it for me and novels for the next forty years. I dabbled in short fiction in college, but had no real idea what I wanted to say through fiction. Sometime around my junior year, I gave up. I ended up going to law school and eventually becoming an appellate attorney. In the process, I learned how to turn out prose in quantity and almost painlessly.
Just before November 2009, my older daughter, a wildly talented young artist, heard about NaNoWriMo (National Novel Writing Month) and decided to take part, her senior year in high school (and one college visit) notwithstanding. She won – and produced a wonderfully entertaining novel. I began to toy with the thought of trying NaNoWriMo myself -- someday.
Someday came the following year.
I gave myself permission to start without knowing whether I could possibly succeed. Give it a few days. See what happens. One month later, I had 60,000 words of my science fiction novel Twin-Bred. I spent the next ten months or so expanding and revising and editing my science fiction novel, Twin-Bred. And editing. And editing. . . .


During that process, my goals for the book changed. At the start, I was busily researching the process of finding an agent and/or publisher. I wrote and rewrote draft query letters, made long lists of agents, and followed agent blogs. Somewhere along the way, however, I started hearing about the recent changes in the publishing industry and the surrounding landscape. I learned how much more practical it had become to publish one's own work, as a POD (print on demand) paperback and/or an ebook. I read many a blog post about the pros and cons of self-publishing. I also read, with some alarm, about the recent changes in many standard agent and publisher contracts -- changes seriously unfavorable to authors, and often concealed in boilerplate language. (For more information on these contract issues, see the following blogs:

The Passive Voice, at http://www.thepassivevoice.com/; The Writing and Opinions of Dean Wesley Smith, at http://www.thepassivevoice.com/; and the "Business Rusch" blog posts at Kristine Kathryn Rusch's website, http://kriswrites.com/.)
I have never been good at self-promotion. The thought of doing my own publicity was daunting. But from what I was reading, most traditionally published authors do much of their own publicity these days.
In the end, the decisive factor was control. Publishing my own book, I could control the editing process, the choice of cover, and the timing of publication. While I finished editing, I worked with my daughter Livali Wyle, by then an art student at Savannah College of Art and Design, on cover design, and commissioned her to do the cover art. I took the final steps in the self-publishing process on her birthday.
Did I make the right decision? That depends on one's metric. I have no regrets, although it remains to be seen whether some very gratifying reviews will eventually translate into noticeable sales. At least I have time. A traditionally published book stays on the shelf at Barnes & Noble for a paltry three months before being sent back to the publisher and destroyed. As an indie author, I can build my and my book's reputation by guest posts, virtual book tours, social networking, my own blog (Looking Around, at http://looking-around.blogspot.com) -- and by writing more books, which I can publish as quickly as I can write and edit them and order or create covers for them. (I have a free ebook on Smashwords -- a science fiction story titled "The Baby," about human cloning -- with a note about Twin-Bred at the end. I view it as, among other things, a form of promotion for my novel.) Twin-Bred will still be available in paperback and as an ebook for years to come, waiting for new readers to discover it. By this time next year, it should be joined by its sequel, now in rough draft.
I still have a great deal to learn, and I'm looking forward to learning it. I'll make mistakes -- but at least they'll be my mistakes. I won't have to stand by, cringing or fuming at the mistakes of others. And if (when?) my book succeeds in a commercial sense, I will have two things to be proud of:

the book itself, and how I brought it into the world.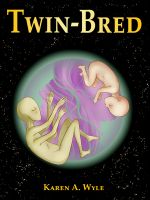 "

Can interspecies diplomacy begin in the womb?
In Twin-Bred, the human colony on Tofarn and the indigenous Tofa have great difficulty communicating with and basically comprehending each other. Scientist Mara Cadell, who lost a fraternal twin in utero, proposes that host mothers of either or both species carry twins, one human and one Tofa, in the hope that the bond between twins can bridge the gap between species. Mara has secretly kept her own twin, Levi, alive in her mind as a companion and collaborator.

Mara succeeds in obtaining governmental backing for her project – but both the human and Tofa establishments have their own agendas. Mara must shepherd the Twin-Bred through dangers she anticipated and others that even the canny Levi could not foresee. Will the Twin-Bred bring peace, war, or something else entirely?..."
This is a fascinating read. The subject of inter-species relations caught my eye but when I saw that the idea was to start diplomatic relations before birth, I had to see where Karen was going with this idea. What she did was write a great sci-fi novel! I am very selective about the sci-fi I read, it was nice to see action being taken from a female for a change. The story moves at a good pace and takes you on the journey of Mara from a young girl to an adult who plans to save the world. This is a must read for sci-fi fans everywhere!
To find out how to get your hands on a copy go to
http://www.karenawyle.net/buy_twinbred.html