Come Out Tonight by Bonnie Rozanski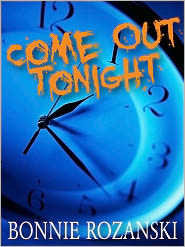 You may have read newspaper reports of zombiish behavior in people who have taken the sleeping drug called Ambien. These people get up in the middle of the night to walk, eat, and drive cars in their sleep. The next day they sometimes find themselves in jail and have no memory of what they had done. And have you heard, as well, of the patients who wake up after years in a vegetative state - ten minutes after they've been given Ambien? COME OUT TONIGHT is a gripping psychological thriller inspired by these reports.

Henry Jackman, a pharmacist's assistant working in a run-down drugstore in New York City, wakes up one morning to find his girl friend unconscious on his living room rug. Someone has attacked her. He calls an ambulance, and manages to get her to the hospital alive but comatose. There she progresses from coma to vegetative state, never quite becoming conscious... until the day Henry gives her Somnolux, a new-generation sleep aid.

Henry, an insomniac, has himself been taking Somnolux. He has been experiencing blackouts, something he doesn't quite admit to, not even to himself. There is evidence he's been doing some strange things in his sleep: women's underwear turns up in his drawers; sexy women in his bed. Could Henry have attacked his girlfriend himself without any knowledge of the fact?

Enter Donna Sirken, a no-nonsense, over-worked homicide detective who for seventeen years has clawed her way up the NYPD ranks to her current position as Detective Second Grade. "I'd have sworn until this very moment that criminals are not evil," Donna tells us. "Sure, they're violent, lazy, banal, or just plain bad. They want something for nothing, or their father beat them into a lifelong resentment against the world ….They grew up poor, abused, or just plain angry. Something set them on the road to crime, but Evil? C'mon."

A study of who we truly are, COME OUT TONIGHT is more than a whodunit. Profound, keenly observed and caustically funny, it will leave you thinking long after it is done. (blurb from Amazon)
When I first read the description I thought that this could be a good mystery. I did not expect such a well written and thought out story. The book gets into details that obviously required a great deal of research. The characters are well-rounded and seem very real. I liked the way that both main characters were able to tell the story through their own points of view in opposite chapters. While sometimes this may confuse readers, the voices of both Henry and Donna are unique so there should be no problem trying to follow who is telling the story at any time. I think that this is a great book for all who love a well-written thriller or mystery!
Bonnie joined in on the Self-Publishing month interview and so here she is in her own words ....
I am an author and playwright.

I've gotten awards for several of my plays, but it's a tough theatrical world out there, and they have yet to be produced.

On the other hand, I have two traditionally published books: BANANA KISS and BORDERLINE, both by a small but fine literary press in Erin, Ontario. BORDERLINE was shortlisted for Foreword's YA Book of the Year Award in 2008 and received a silver medal at the Independent Publishers' Book Awards in the same year. And I also have five more ebooks for Kindle (check them out on Amazon!). One of them, SIX CLICKS AWAY, was a drama winner of the Red Adept 2010 Indie Awards.
Tell us about your writing experience.
I wrote when I was a child: poetry and short stories, and wrote sporadically until my mid-twenties when I finished my first novel (it shall remain nameless).

Then I decided that I needed some life experience before I could produce anything worthwhile.

So, I worked in business for quite a few years, raised my son, getting a few degrees along the way.

Finally, when I finished my last degree, a MS in Computer Science, I decided that what I really wanted to do was not go back into computers but to write.
What led to you coming up with the idea for this book?
COME OUT TONIGHT was inspired by recent bizarre reports of zombiish behavior in people who have taken the sleep drug Ambien.

These people get up in the middle of the night to walk, eat and drive cars in their sleep without having any memory the next day of what they have done.

Several months later came even stranger reports of patients who awakened after years in a vegetative state – ten minutes after they had been given Ambien.

Taken together, these reports seemed to say that Ambien could somehow unlock the secret to the conscious self!

How could I not write about this? (Though I changed the name of the drug, naturally.)
What led to your decision to self-publish?
It wasn't a hard decision.

I was lucky enough when I lived in Canada to find Porcupine's Quill, who did a beautiful job publishing Banana Kiss and Borderline.

But once I moved back to the US, I found that publishers had mostly stopped accepting new manuscripts from writers without agents.

As for sending material to agents, it was an exercise in frustration.

"Intriguing premise," they'd tell me.

"Deftly written! Caustically funny!

But it's between categories [or] between genres [or] between target markets, and I'll never be able to sell it to a publisher."
It's the old adage – it's hard to get a book contract unless you already have one, and publishers want unique ideas that are exactly like other unique ideas.

So, that underlies my decision to self-publish. By the time I realized I could upload them to Amazon, I had five unpublished novels.

It was a no-brainer.

I figured that if I could just get them out there, readers could decide for themselves.
What obstacles did you come across in the process?
None really, except for the marketing.

Both Amazon.com and Barnes & Noble are very user-friendly. (Once you get the hang of it, of course.

The first book I uploaded was entitled Y.

Well, the Amazon software had a problem with a single letter title, but it never said so, of course.

Y just never showed up for sale.

Neither could the Amazon reps seem to figure it out.

One day out of sheer desperation, I put quote marks around the Y, and lo and behold, it worked!)
The one major obstacle, of course, is that a self-publishing author has to rely on oneself to do all the promotion.

On the plus side, I've found some wonderful bloggers who have gotten excited about my books, and that's helped to get the word out.

And when SIX CLICKS AWAY got a 5-star review on Red Adept Reviews, one of the most highly regarded indie reviewer sites, I got a nice bump in sales for all my books.
Would you / are you planning to self-publish more books in the future?
Absolutely.

I'm already in the early stages of writing a new novel based on time. I think everyone's fascinated by the prospect of time travel.

I'm actually also intrigued by the idea that perhaps, as one physicist contends, the past isn't fixed at all.

Maybe future actions can cause past events as much as the past can cause the future.

I don't have a plot or premise yet, but it should be fun.
To get your copy of Come Out Tonight check out this website
http://www.amazon.com/Come-Out-Tonight-ebook/dp/B005MKZCN8/ref=sr_1_4?s=digital-text&ie=UTF8&qid=1327006860&sr=1-4