The Cameo Caper by S.E. Shurtleff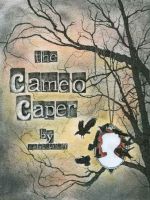 Jessi Johnstone is desperately trying to break her compulsive snooping habit. All she wants is to reunite her parents and get back to normal life. But when her nonstop curiosity leads to the discovery of an antique cameo, operation-parent-reunification gets put on hold. Instead, she must uncover the truth; about a mean teacher's desire for the necklace, a timeworn legend, and her own family's secretive history. Can she solve the mystery and still have time to bring her parents back together before it's too late? One thing's for sure. It's going to take some snooping.
Great book because of a great character! Jessi is smart and curious and very likable. The writing is very inviting from the first page and between that and wanting to know what Jessi says next will have you enjoying every moment of this story. The mystery that unfolds is sure to keep both the young and older interested from start to finish! A great choice for all tweens!