Gift Pick - In The Middle Of Almost and Other Stories by S.B. Lerner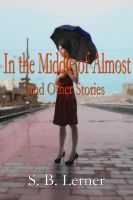 Blurb from Smashwords.com:
An engrossing collection of funny, sweet, and poignant stories(previously published in literary magazines)about women who look for men in all the wrong places, and discover something about themselves in the process.
The stories in "In the Middle of Almost and Other Stories" reveal moments in the lives of busy, successful young women who are somehow lonely and discontent. Their search for connection leads to encounters with an array of men--the garage attendant across the street, the stay-at-home dad in the playground, the younger man at the diner counter--with both funny and poignant results.
I think that the short stories in this book will resonate with all woman, even if they have not had the exact experience as some of the characters, they will know of someone who has been in at least one or more of the situations. I found that all of the stories engage the reader right away which made me ready to go right on to the next, then the next, and so on.
What really made an impression on me was how much story was in so few words. This is what I always find defines a so-so writer and a great writer, by how much detail can be found in a short story. If you have hundreds of pages to tell a story anyone can do it, but if you are limited to only a few pages you need to know how to keep your words effective and efficient. S.B. Lerner does this well in this book.
I recommend this book to all woman, even if you don't normally read short story collections be sure to give this one a try!
S.B. Lerner was kind enough to tell us all about how she has spent this past year going from an idea to getting into print.
Year in Review by S.B. Lerner
Last year I went to a New Year's Eve party which featured readings by a Psychic. That's not normally the kind of thing I go in for, but a spirit of adventure was in the air and I joined the queue. When my turn arrived, I entered for the eerily quiet room set aside for the psychic and had a moment of panic that she would predict something awful for me and almost bolted. But it was too late. Too awkward. Anyway, she didn't look dangerous, although she was dressed for the part in colorful flowing fabrics, dark red lipstick and thick black hair wrapped in a scarf.
We exchanged a few pleasantries and she explained she would be communicating with my Angels or Guides. Then she got very still, concentrated hard, and after a minute or two, she began to speak. My Angels told her I was writing and that my work was important, both for me and for the world. They revealed to her (and her to me) that in the upcoming year I would find a champion or sponsor. I immediately thought that meant I would get an agent.
She asked if I had any particular questions, and I mentioned feeling isolated, writing alone in a room for hours each day. She assured me that my isolation would soon end and there would be activity and excitement in my life. I felt a surge of hope and planned to call her for another reading, and as I write this now, almost a year later, I'm thinking that I will.
Because, in fact, this year has seen a surge of activity. First, I took the plunge into self-publishing (I like to call it indie publishing) just to get a feel for the process. I assembled a group of stories and memoir that had been previously published in literary magazines and newspapers and would have languished in obscurity as individual pieces, and put them out as a collection called, In the Middle of Almost and Other Stories. I made them available on Kindle, Nook, iBooks, Kobo and Sony Reader and Smashwords.
As part of that effort, I began to engage in social networking. Until then, I'd spent most of my computer time on Word, writing and revising my novel. I was on Facebook just enough to keep an eye on my son and connect with some old friends. I had no website, didn't really understand blogs and was clueless about Twitter, which sounded so silly I couldn't bring myself to even read up on it.
But I did read up on social networking in general. I realized I'd need a website—a place where all the information about me, my short story collection, and my novel would be together and available to people who were interested in my work. I established a website (http://sblerner.com), blog (http:susanblerner.com), Facebook Book page (
https://www.facebook.com/pages/In-the-Middle-of-Almost-and-Other-Stories/265178710186807?ref=tn_tnmn
) and recently, a twitter handle! (@sulerner).

One thing led to another, and suddenly I was "out there."
It's strange; I still spend a lot of time at my desk, and yet I am connected to the world by virtue of participating in social network activities. I join groups. I comment. I end up making virtual friends from all over the world, from Bangladesh to the U.K. to Colorado. People read my book and some of the comment on it or analyze the stories, seeing things in them that I hadn't.

I still find it strange, in some ways, and totter between enjoying it and wanting to run back to obscurity. But overall the journey has been positive.
I also found a "champion" in the form of a noted writer/editor who read the manuscript of my novel (A Suitable Husband
All in all, it has been an interesting year and I've been working hard. I think I'll spend the vacation reading other people's books and see what the psychic says my Angels have in store for next year!
You can get your own copy in a number of ways:
https://www.smashwords.com/books/view/99417
http://www.kobobooks.com/ebook/In-Middle-Almost-Other-Stories/book-dYmYw5eZ1ECuOUbst5vsLw/page1.html
http://www.goodreads.com/book/show/12708823-in-the-middle-of-almost-and-other-stories
And to find S.B Lerner on the web:
http://sblerner.com/